Giving a new life to your pool
Time passes...
Your pool has been in use for many years and there are signs of aging, or worse still, not everything is working as it should.

It's time to call the «Pool Doctors».
Whether your tiles need regrouting or repair, there are more serious problems or you want to upgrade your old system, we have the right solution for you.

On this page, you can read about our renovation and upgrade services.
To read about equipment options or see examples of our projects: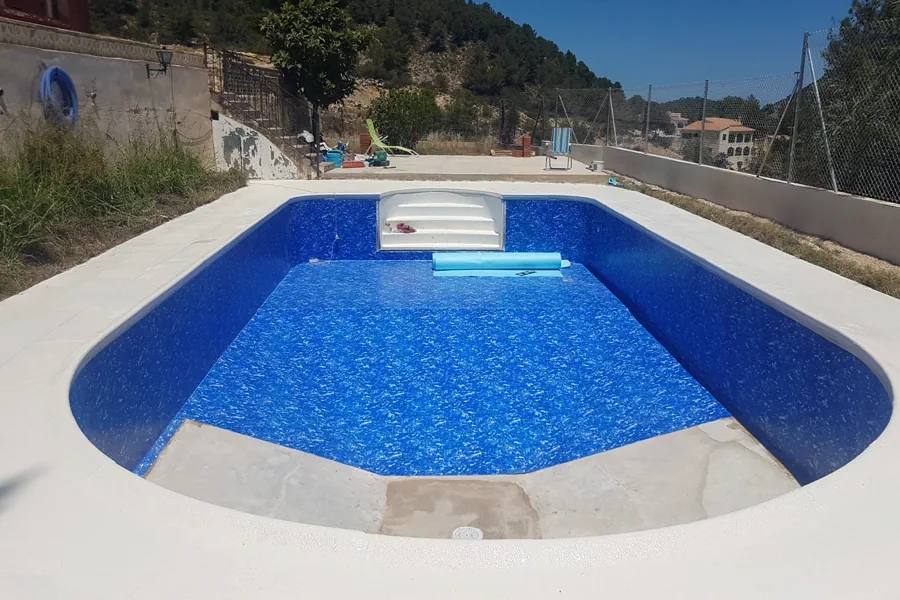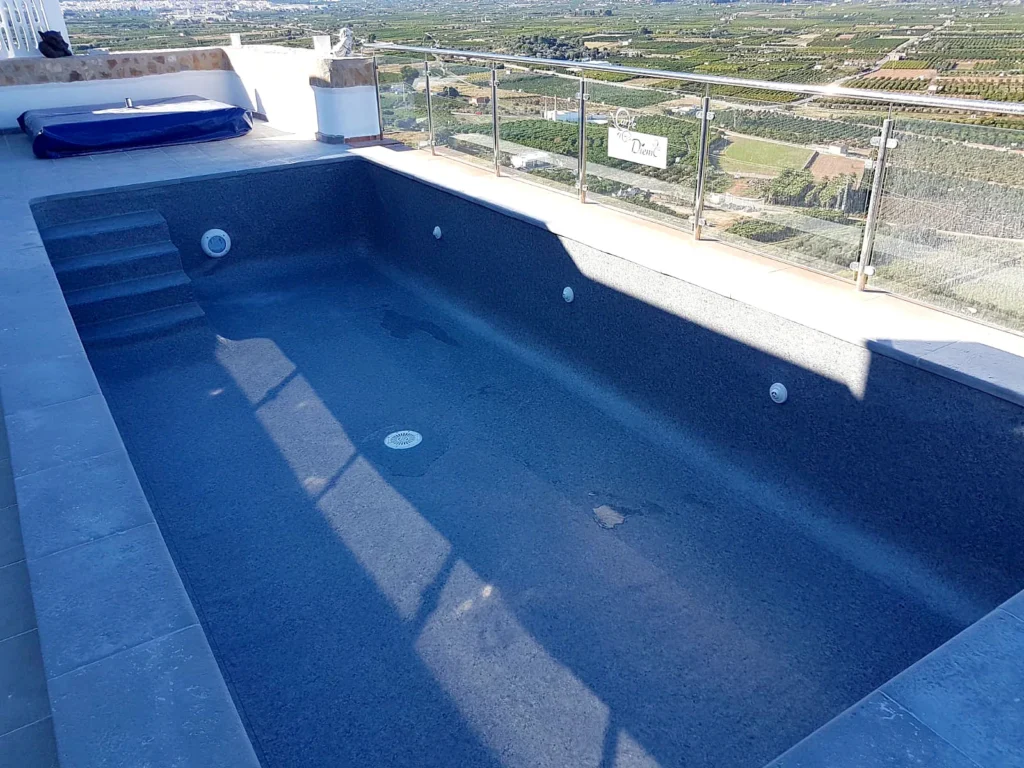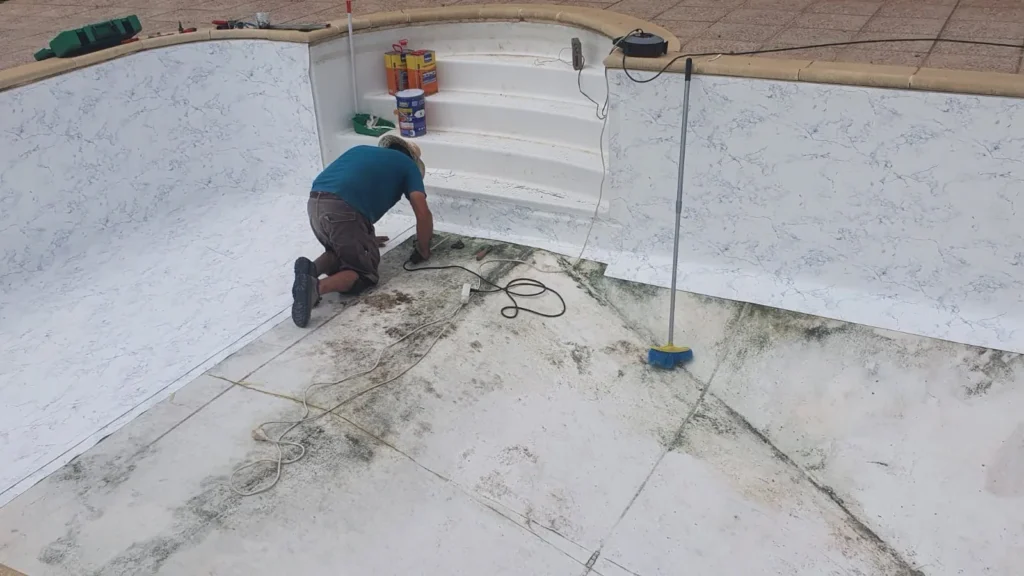 What is the «Liner»?
The «Liner», or reinforced vinyl membrane, is a product specifically designed to allow a quick and economical reconditioning of a swimming pool.

Renolit Alkorplan, which we use for our projects, is the best-performing material, with purpose-designed protection that prolongs the life of the membrane.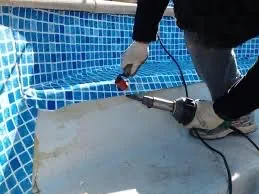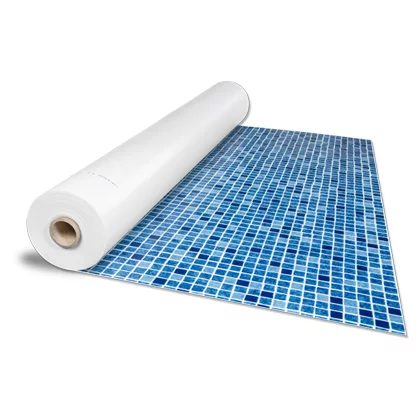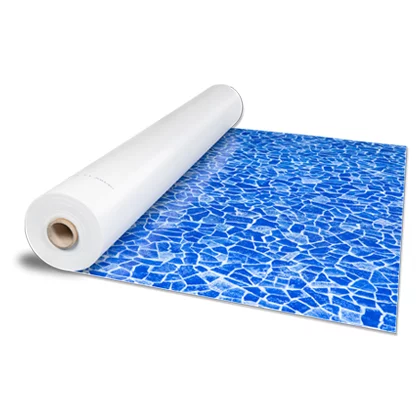 How we do it?
We carry out the projects with the «Liner» in four steps.

Depending on the size of the pool and the amount of preparation and finishing work, the actual refurbishment with the «Liner» takes between 5 and 10 days to complete.

Visit our gallery to see examples of our «Liner» projects.
1 Planning
The first step is a survey and a project plan.
2 Preparation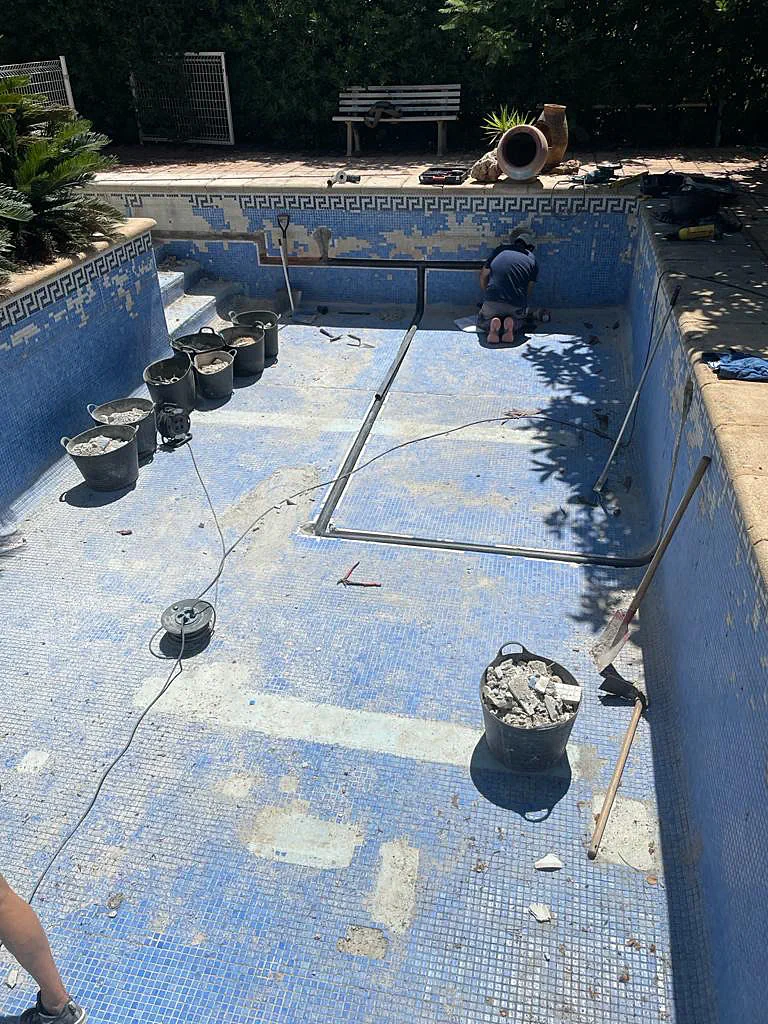 In phase 2, we do all the preparatory work around the pool.
3 Installation
This is the main stage in which the «Liner» is laid down and attached to the pool.
4 Finish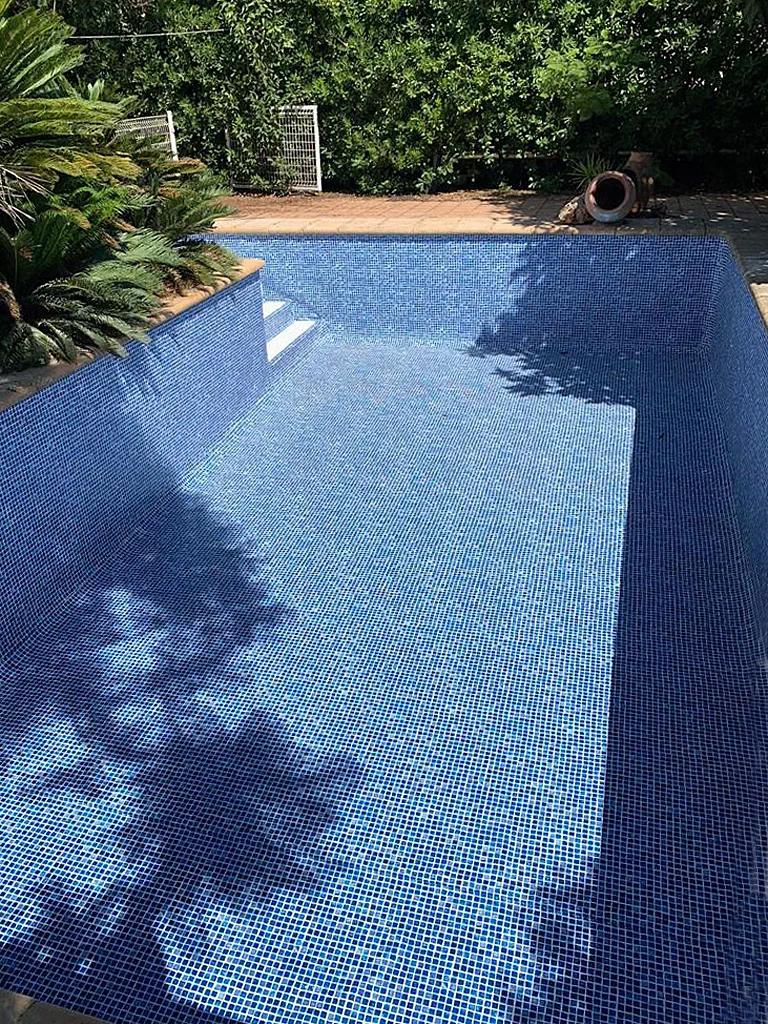 And that's it, the freshly lined pool is ready to fill with water!
Would you like to know more?
We refurbish and upgrade
In addition to projects with the «Liner», we also help our customers take advantage of their existing facilities and update or improve them to continue to be used for years to come.

Call us, we would like to help bring new life to your pool! To see examples of our renovation projects, visit the gallery.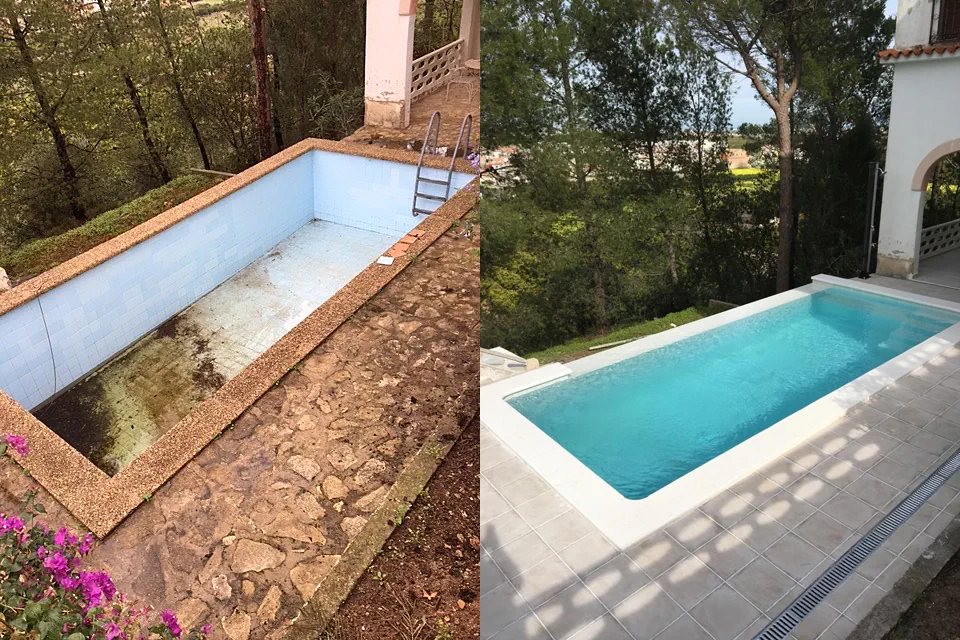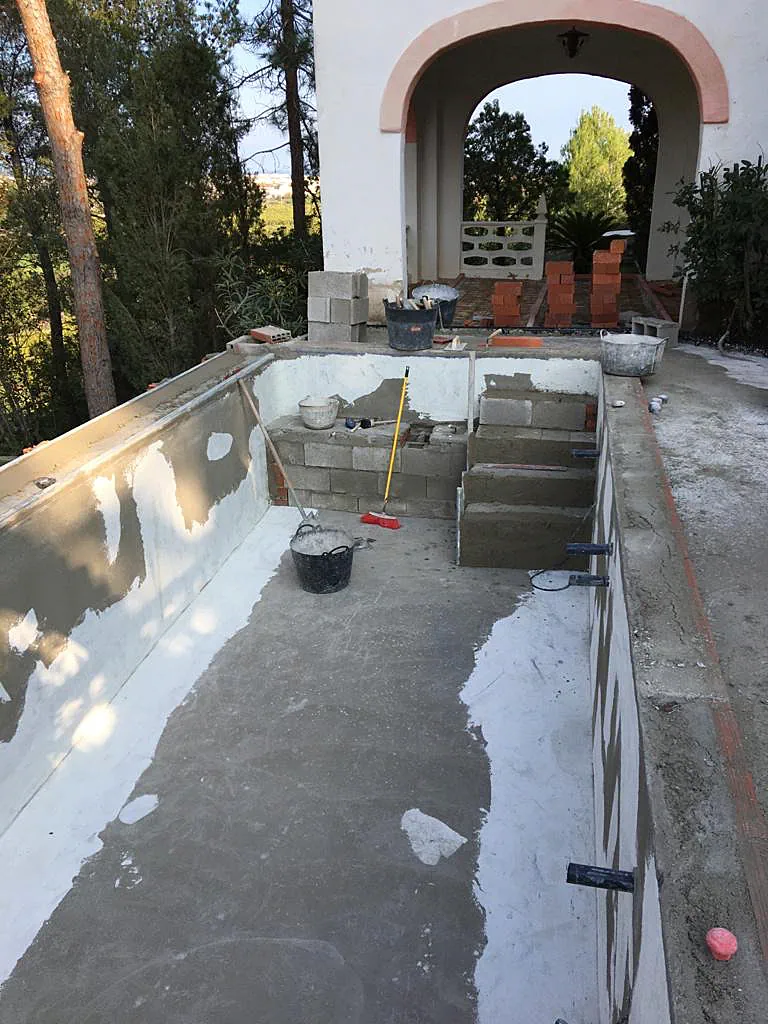 Your pool may have been built many years ago and may be showing signs of usage or deterioration.
It's time to reform the pool and return it to its splendour so you can enjoy it and make your property a perfect place to live or spend your free time.

We will re-grout the pool, we will change the missing tiles, or will replace the coronation... It will shine like new again.
Do you want to update your pool so that it works more efficiently, at a lower cost and with less maintenance? Or maybe you would like to have more natural water in your pool? How about using the pool in the colder months?

We have the latest products for water treatment automation, conversion to salty water systems and water heating.

We have solutions for all needs and offer systems featuring high efficiency and low running cost.

And we can connect you with your pool, wherever you are!

See the options in the equipment section. Or just give us a call and we will find the right solution for you.
Coming soon... our newsletter with new products, offers and obviously advice from the Pool Doctor.
Av Jaume I, 19
46714 Palmera, Valencia
Mon – Fri: 10:00 – 14:00 and 17:00 – 19:00
Sat: 10:00 – 13:00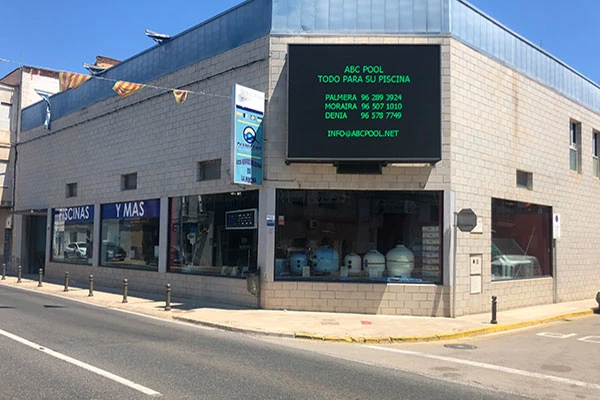 Avenida Valencia, 52
03700 Dénia, Alicante
Mon - Fri. 10:00 - 19:00
Sat: 10:00 – 13:00
Calle Pintor el Greco, 28
03724 Moraira, Alicante
Mon – Fri: 10:00 – 14:00 and 17:00 – 19:00
Sat: 10:00 – 13:00